Maura O'Connell's unparalleled vocal power is beautifully displayed in her impressive new album. Naked With Friends is the Irish singer's humorous way of describing this very serious and poignant work of vocal art. Determined to show that "just a singer" can possess as much talent as any musician, O'Connell recorded this collection of a cappella performances with the help of singers Kate Rusby, Dolly Parton, The Settlers Connection, Jerry Douglas, Crooked Still's Aoife O'Donovan, Sarah Dugas of The Duhks, Altan's Mairéad Ní Mhaonaigh, Clannad's Moya Brennan, Mary Black, Alison Krauss, Tim O'Brien, Darrell Scott, Paul Brady, Liam Bradley, Declan O'Rourke, and Áine Derrane.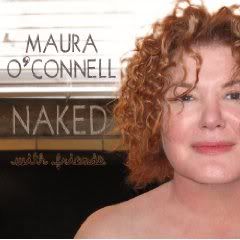 Maura's haunting a cappella opens "The Bright Blue Rose". The earthy depths of her voice are so astounding, I wish she were unaccompanied for the duration for the song. But Kate Rusby, Dolly Parton, and The Settlers Connection make for a pretty choir on the song.
Jerry Douglas joins Maura for a gut-trembling performance of the traditional "Mo Sheamuseen", Crooked Still's Aoife O'Donovan and Sarah Dugas of The Duhks provide ethereal harmony on the ballad "Arrow", and Alison Krauss contributes her soft croon to a cover of "Some People's Lives".
Tim O'Brien is outshone by O'Connell's pipes on "The Blacksmith", but Paul Brady does a fine job of keeping up with her on the traditional "Anach Cuain". But you really must leave it to Irish gals to sing with each other, such as when Altan's Mairéad Ní Mhaonaigh, Clannad's Moya Brennan (formerly known as Máire Brennan), and Mary Black lend their voices to "I Know My Love".
Maura sings solo on a few tracks, beginning with a rafter shaking take on "Ae Fond Kiss" by Robert Burns. She also delivers a stunning rendition of Joan Armatrading's "Weakness in Me", which is one of my favorite songs of all time. The result is one of the most chill-producing vocals I've ever heard. Those who have heard the original know it's difficult to imagine anyone successfully mimicking Armatrading's heart wrenching delivery, let alone bringing anything fresh to the song. Yet the delicate trill and deep chasm of O'Connell's voice evokes new facets of emotion from the tune.
Maura O'Connell – The Bright Blue Rose (mp3 link removed) *
*mp3 hosted by & posted w/ permission of Welk Music & Sugar Hill Records
Maura O'Connell Official Site
Maura O'Connell MySpace
Buy @ Amazon