Ultimate Hits: Rock and Roll Never Forgets is a new 26-track, 2-disc collection of pretty much all of Bob Seger's best songs, many of which were popular singles. I always forget how much I like Seger's music until I actually here it.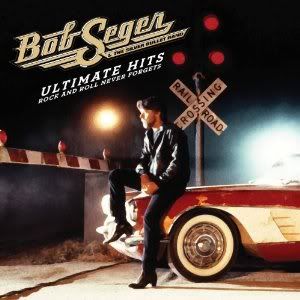 The only song missing here is "Fire Inside," otherwise all my personal favorites are included: "Night Moves," "You'll Accomp'ny Me," "Mainstreet" and "Turn the Page."
There are also plenty of other fan favorites, such as "Old Time Rock and Roll," "Hollywood Nights," "Still the Same," "We've Got Tonight," "Like a Rock" and "Against the Wind" just to name a few.
The finale of the collection is an unexpected and welcome cover of Tom Waits' "Downtown Train."
If you like Bob Seger and/or classic rock, you'll love this set.
I was not granted permission to share an mp3, but you can hear samples and watch videos at the links below…
Buy @ Amazon