Variations of Chopin is a compilation featuring modern interpretations of works by my favorite classical composer, Fryderyk Chopin. Released by the small Scottish (by way of Poland) indie label Too Many Fireworks, Variations of Chopin puts an ambient and electro-pop spin on Chopin's classical melodies.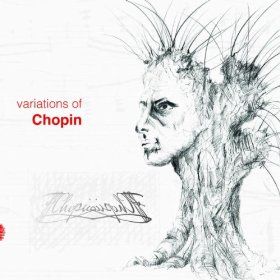 The album is bookended by interpretations of "Prelude Op. 28 No. 7 in A Major." Neil Milton's straightforward but nonetheless pretty piano take is a very brief 48-second opener. Thankfully, Clem Leek's magnificent, mindblowingly lovely finale of the same piece has an almost three minute life. But we'll get to that later.
It's during Black Antlers' somewhat eerie rendering of "Nocturne Op. 27 No. 2 in D Flat Major" that you slowly become aware that this is not your standard classical album. Though the work's central melody is tightly woven into the cover, there are just enough electronic embellishments to give it some extra oomph.
Miaoux Miaoux then completely abandons the classical realm for a full-on electro-pop cover of "Nocturne Op. 55 No. 1 in F Minor." You would never guess all those beats and blips were born from a Chopin arrangement.
deSelby gives a beautiful, somewhat Baroque acoustic guitar cover of "Nocturne Op. 9 No. 2 in E Flat Major." Even if you don't know the original Chopin composition, you may recognize the melody from the end of Muse's "United States of Eurasia/Collateral Damage."
Some of the other covers are a tad too experimental for my taste, though I still admire the concept.
And then we have that spectacular finale. Clem Leek's rendition pf "Prelude Op. 28 No. 7 in A Major" swirls with ghostly vinyl scratches, distant sparse piano, harmonica and creaky violins. It's absolutely fantastic.
Buy @ Amazon