The new Company of Thieves album, Running From a Gamble, was released last month and I posted an mp3 from it back in in April. But I'd put my advance copy of the album aside since another writer offered to review it here. They never got around to it, so I finally gave it a listen and it's far too good to neglect writing more about it…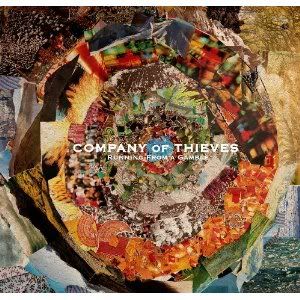 I don't understand why Paramore gets so much attention and airplay while Company of Thieves is ignored by the mainstream (at least in my area). Lead singer Genevieve Schatz' voice is distinctively strong and pretty and the band's pop-rock songs are far more catchy and lyrically substantial than anything on the radio.
Highlights are the melodic "Queen of Hearts," the infectious "Look Both Ways," the moody "Never Come Back," the Regina Spektor meets The Killers "Death of Communication" and the torch song "King of Dreams."
My personal favorites are the sultry PJ Harvey-esque "Gorgeous/Grotesque" and "Nothing's in the Flowers." The latter begins as a pretty, somewhat simple yet very appealing pop number before dropping down into a bluesy, almost gospel arrangement toward the end.
Running From a Gamble is one of those albums I like more with each listen.
The band is generously giving the album away for free to fans who print this coupon and take it to FYE.
Company of Thieves – Modern Waste (mp3)*
*mp3 hosted by & posted w/ permission of band's PR rep
Company of Thieves Official Site