Rosler's Recording Booth is an unusual concept album written and produced by Grammy-nominated songwriter Don Rosler. The disc features a bizarre set of new songs performed by an eclectic cast of singers, which includes Jeremy Sisto, Spottiswoode, Isabel Keating, Terry Radigan, John Margolis, Kathena Bryant (of The Hippy Nuts), Tam Lin, Jon Albrink, Tamara Hey and Don Rosler himself.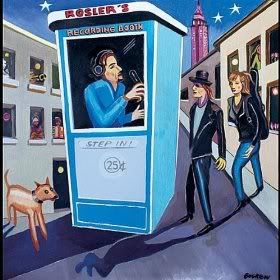 Randy Newman and Kurt Weill have been named as influences for the music on Rosler's Recording Booth. The dual inspiration seems to have resulted in an uneven collection of songs – some brilliant, some painful, but all strange and at least a little bit interesting.
The highlight of the album is "Halfway Honest Living," which is the surprising good singing debut of actor Jeremy Sisto. I wish he'd been allowed to sing more than one track.
I was not granted permission to share an mp3, but you can hear samples at the links below…
BUY MP3s @ AMAZON