If you watched
Dirty Sexy Money
last night and wonder what the song in the final scene was – it was "Everybody Knows" by Concrete Blonde. For the young folks who don't know, Concrete Blonde was
Johnette Napolitano
's old band. Their sound was called everything from alternative to hard rock to Goth. They remain one of my favourite bands of all time, and I've probably listened to their greatest hits collection
Recollection
more than any other album that I own. If you liked the song in last night's episode, you'll love the rest of their music.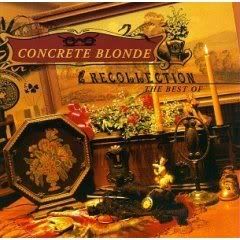 Recollection opens with the rock explosion of "God Is A Bullet", followed by my favourite CB track the AIDs anthem "Tomorrow, Wendy", then the more radio friendly alcoholic boyfriend "Joey" – which was probably the closest thing to a mainstream hit that the band ever had. The creepy "Bloodletting (The Vampire Song)" and the wailing "Walking In London" are pretty much Anne Rice novels set to music. Other highlights are the softer "Caroline", and the screaming rock tracks "Heal It Up" and "Still In Hollywood".
The disc also includes the band's aforementioned cover of Leonard Cohen's "Everybody Knows" – which was originally featured on the soundtrack to Pump Up The Volume – as well as a live acoustic cover of Janis Joplin's "Mercedez Bends".
Buy the CD or Mp3s