Tag Archives:
dance music
Escort will release their new single, "Barbarians," on June 25th. The song has a more simple, traditional disco sound than the Neo/electro-disco dazzlement of their spectacular debut album. But it's still a fun dance tune. You can stream it below…
Buy @ Amazon
(Available June 25th)
Escort is a seventeen-member "disco orchestra" led by singer Adeline Michele, and they're definitely one of the more unusual and delightful acts I've heard. Escort's self-titled debut will be released physically on January 31, 2012 and is already available digitally. I can't imagine a more fun and catchy album being released next year.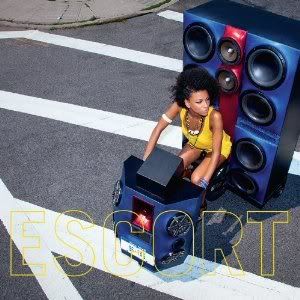 Songs like "Caméleon Chameleon," "Cocaine Blues," "Makeover" and "Starlight" mingle synth-pop, R&B and disco in a fantastic, danceable concoction that's equal parts Donna Summer, Tom Tom Club, Bow Wow Wow and early 1980's Michael Jackson.
Escort – Makeover (mp3)*
Escort – Caméleon Chameleon (Club Remix) (mp3)*
*mp3s hosted by & posted w/ permission of band's PR rep
Buy CD @ Amazon
Buy Mp3s @ Amazon