Common's
Finding Forever
was produced by Kanye West, who co-wrote many of the tracks on the album. West also guests on a couple of songs, as do D'Angelo, will.i.am, and Lily Allen. I'm a fan of both Common and Kanye, so needless to say I love this collaboration.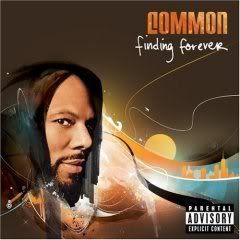 Finding Forever opens with the soft harp instrumental "Intro" before bursting into "Start The Show", which layers Common's rapped verses and Kanye's chorus with a string quartet. The track is one of many co-written by Kanye West and contains a sample of "The Windmills Of Your Mind".
"The People" blends a more standard rap – which references India.Arie and Barack Obama among others – with a retro soul groove. Lily Allen sings the chorus of "Drivin' Me Wild", which samples "Love Has Fallen On Me". I've seen the video several times on BET, but I've yet to hear it on local radio stations.
"So Far To Go" samples The Isley Brothers and features vocals by D'Angelo. Is it a surprise that my least favourite track on the disc was co-written by and features vocals by will.i.am? Even his name annoys me.
The disc gets back on track with the Kanye West duet "Southside". The song puts a little more emphasis on West's energetic style, as opposed to the more soulful approach I tend to associate with Common.
Vintage horns and DJ scratches make "The Game" the stand out track. "U, Black Maybe" samples Syreeta – who seems to be the artist that most people are searching for when they stumble upon this blog.
"Misunderstood" is another highlight, winning my love by heavily sampling Nina Simone. Like many of the other tracks, the lyrics of the song blend social commentary with pop culture references. And the album closes with the atmospheric "Forever Begins", which borrows its melody from Paul Simon's "50 Ways To Leave Your Lover".