Muruch gig reviewer and photographer Jen "Coble" Hopper took on the exciting task of listening to and reviewing My Chemical Romance's recently released fourth studio album, Danger Days: The True Lives of The Fabulous Killjoys…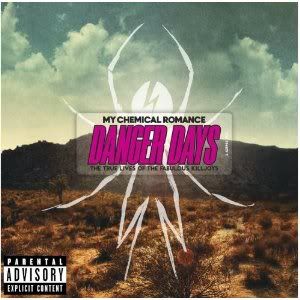 "If my velocity starts to make you sweat, then just don't let go"
Few bands garner as much of my respect for rock talent as My Chemical Romance. Unfortunately, the media has done well to mislead and confuse potential listeners, turning them into posterboys for emo and completely missing the musical ability of these four Jersey-born, self-proclaimed comic geeks.
Danger Days: The True Lives of The Fabulous Killjoys is a vibrant departure from the darker, anthemic concepts of The Black Parade
. For anyone who hasn't given My Chemical Romance a chance, a closer listen to their catalogue unveils the understanding that nearly every song, past and present, has been woven with the most earnest thread of hope. While not vital to the enjoyment of their music, recognition of that inherently optimistic element gives insight into the creative mind of lead-singer and lyricist Gerard Way.
Way designed the concept of this record as a bleak, comic-inspired, futuristic world where art is outlawed and emotions are experienced with the drop of a pill. The Killjoys are oppression-fighting renegades on a crusade to help humanity return to a sincere way of life. A range of easily felt emotions accompanies their album-long quest, making it a compelling and empathetic journey for the listener.
Hope is carried into the upbeat hooks and radio-friendly pop, while not losing MCR's punk roots. Diehard fans who may be leery of a synth-infused MCR album will find rockier tunes like "Save Yourself, I'll Hold Them Back" and "Vampire Money" (a reference to the band being pressured to contribute to the Twilight soundtrack
) hint strongly of Three Cheers for Sweet Revenge
and earlier MCR.
MCR has an impressive ability to borrow from different musical styles while maintaining their own unique flavor. In this regard, Danger Days is as a diverse an album as they have ever recorded. Raw tunes like the deliciously Beastie Boys-esque "DESTROYA" and "S/C/A/R/E/C/R/O/W" (reminiscent of Stone Temple Pilots) are not out of place with fresh rock ballads, dance beats, pop anthems and love songs.
The whole project, from music to packaging to promotion, is gorgeous. This is a well-crafted, high-energy album that screams vivid color with every note. The marketing and visual work (videos included) for this album have been brilliant. The elegant use of symbolic primary color has been flawlessly executed.
Like many recent highly anticipated records, this one was preceded by viral web campaigns that intensified the hype for fans. Most recently, MCR unveiled several music videos chronicling the adventures of The Killjoys, setting the stage for the album. I encourage the curious to visit their YouTube channel as a way to explore this world prior to experiencing the record.
Danger Days is an album that can't be worn out. You've got to fire this one up and be prepared to "keep running."
I was not granted permission to share an mp3, but you can hear samples at the links below…
Buy @ Amazon
My Chemical Romance Official Site