Six-piece Portland ensemble Vagabond Opera is a new addition to my demented circus genre. But despite some similarities to twisted bands like The Dresden Dolls and Tiger Lillies, Vagabond Opera's new album The Zeitgeist Beckons centers on a more traditional cabaret sound (akin to Camille O'Sullivan) with elements of opera, Eastern European folk, jazz, swing, and klezmer. Led by operatic tenor and accordion player Eric Stern, the band features a wide selection of instruments and styles with a revolving cast of female vocalists.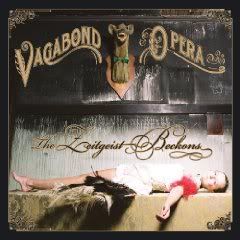 The cabaret style is omnipresent throughout the album, but front and center in "Welcome to the Opera." The song introduces the musicians, showcases their eclectic stylistic madness, and finishes with a sample of Verdi's "Traviata."
Songs like "Chimaeras Be Met" and "Farewell Kabarista" are heavier on the jazz and swing. The manic cover of Tom Waits' "Tango 'Til They're Sore" can't compete with Holly Cole's interpretation, but it's not really trying to anyway.
"Milord" is a torchy homage to Edith Piaf that I love, but the sultry snarl of "Ganef" is probably my favorite track on the album. So much so that I was tempted to share it (the band was kind enough to let me choose the mp3), but I feel this track is a better introduction to the band…
Vagabond Opera – Welcome to the Opera (mp3 expired) *
Buy @ Amazon
Vagabond Opera will perform at Mountain Stage next month, and I think it'll be a very entertaining set.
*mp3 posted w/ permission of the band