Flogging Molly's new album, Speed of Darkness, will be released on May 31st via their own record label, Borstal Beat Records. The new album has more of a American rock musical sound than the seminal Celtic punk band's previous efforts, and subsequently hasn't quite captured my affection as intensely as when I first heard Swagger
and Drunken Lullabies
. It is, however, a lyrically brilliant and sonically solid effort inspired by the U.S. economic collapse – particularly its harsh effect on Detroit's factory workers.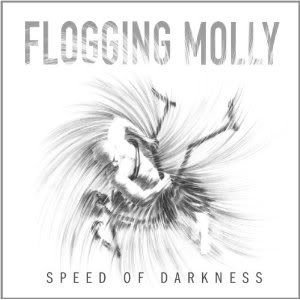 from the town of Detroit where my job is secure, yeah
secure in the fact that it's gone for good, yeah
Speed of Darkness's opening title track is a quintessential Flogging Molly song reminiscent of "Devil's Dance Floor" with its intoxicating whirlwind of traditional Irish instrumentation and pure punk rock snarl.
"Revolution" and "Don't Shut 'Em Down" are more Green Day than Flogging Molly with a slick pop-rock polish over the arrangements.
The stand out track "The Power's Out" is a much more successful attempt at a Broadway-worthy rock anthem livened up with the band's trademark Irish flare, striking lyrics decrying the loss of jobs after years of faithful service and one final explosive wail from King.
And if the band is really trying to turn Speed of Darkness into the next American Idiot musical, "The Cradle of Human Kind" is the song to do it. King's stellar vocal performance has shades of Freddie Mercury greatness.
"The Heart of the Sea" incorporates a lurching sea chantey melody into a catchy pop number, anchored by King's bluesy growl.
"So Sail On" and "Present State of Grace" are softer acoustic fare, while "Saints & Sinners" is another high energy rock track.
"Oliver Boy (All of Our Boys)" is an intense political rant with the rousing shout, "where there's blood, there's death and glory."
"A Prayer For Me In Silence" is a lovely duet with fiddler Bridget Regan, a Detroit native and King's wife.
The finale "Rise Up" sways between the lilting traditional Irish folk past and the modern Celtic punk movement.
As I first posted in January," you can download a free, legal mp3 of "Don't Shut 'Em Down" by entering your email address into the widget below…
Flogging Molly – Don't Shut 'Em Down (YouTube Video Link)
BUY @ AMAZON