Loving Takes This Course: A Tribute To The Songs Of Kath Bloom is a beautiful two-disc set featuring new covers of Kath Bloom songs by Devendra Banhart, Scout Niblett, Josephine Foster, Corrina Repp, and The Concretes among others. The second disc in the set contains the original recordings by Kath Bloom, an excellent bonus feature that I wish other tributes would include.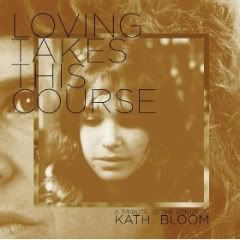 This review has unfortunately been gathering dust in my draft folder since April, forgotten until I began writing about the new Judee Sill tribute. Strange how changing trends bring such brilliant, but obscure artists to light. I'm sure I'm one of many who was introduced to the music of Kath Bloom through her work with Loren MazzaCane Connors and the use of "Come Here" in Richard Linklater's film Before Sunrise
. But when I posted about Bloom's music years ago (relevant posts here and here), I don't recall seeing any mention of her elsewhere. Yet this tribute album has been all over the place in recent months – I would be remiss if I did not direct readers to the wonderful reviews of this album to be found at Cover Lay Down and My Old Kentucky Blog.
The covers selected for Loving Takes This Course are much stronger than those on the Judee Sill tribute. Whether this is due to the quality of Blooms' songs or the talent of the artists covering them varies from track to track.
"Come Here", for example, is such a pretty and uplifting love song that it would be difficult to ruin. But I definitely prefer the version by Marble Sounds that opens the album to the one by The Concretes that closes it. Both bands make some interesting, though vastly different, changes to the arrangement that give the song a fresh perspective. But Marble Sounds manage to do this while staying true to the delicate sweetness of the original.
I'm so thrilled this tribute includes "When I See You" (originally titled "When I Feel You Coming"), which is my absolute favorite Kath Bloom song and one of her collaborations with Loren MazzaCane Connors. There's really no way to improve on Kath's haunting original, but Laura Jean's cover is still very good.
Devendra Banhart livens up the music of "Forget About Him", and the song also seems to give the freak-folk singer's voice new life. I love Scout Niblett's voice, but miss the mandolin in her sparse rendition of "I Wanna Love".
There are three covers on this album that I might like even more than Kath's originals. Bill Callahan transforms "The Breeze/My Baby Cries" into a forelorn country tearjerker, Mark Kozelek paints "Finally" with an eerie shade of Nick Drake, and Corinna Repp's fragile wail carves new shivers into "Fall Again".
Track list for Loving Takes This Course: A Tribute To The Songs Of Kath Bloom:
Disc One: The Covers:
1. Come Here – Marble Sounds
2. The Breeze/My Baby Cries – Bill Callahan
3. When I See You – Laura Jean
4. Finally – Mark Kozelek
5. Window – Mick Turner (Dirty Three) & Peggy Frew
6. Forget About Him – Devendra Banhart
7. I Wanna Love – Scout Niblett
8. Biggest Light Of All – The Dodos
9. Look At Me – Josephine Foster
10. Ready Or Not – Mia Doi Todd
11. Fall Again – Corrina Repp
12. It's So Hard To Come Home – Marianne Dissard & Joey Burns (Calexico)
13. In Your School – Amy Rude
14. If This Journey – Tom Hanford
15. There Was A Boy – Meg Baird (Espers)
16. Come Here – The Concretes
Disc Two: The Kath Bloom originals:
1. Come Here
2. The Breeze/My Baby Cries
3. When I See You
4. Finally
5. Window
6. Forget About Him
7. I Wanna Love
8. Biggest Light Of All
9. Look At Me
10. Ready Or Not
11. Fall Again
12. It's So Hard To Come Home
13. In Your School
14. If This Journey
15. There Was A Boy
16. Come Here
Bill Callahan – The Breeze/My Baby Cries (mp3) *
Kath Bloom – Come Here (mp3) *
*mp3s posted w/ permission of Forcefield PR
Buy @ Amazon