I had not even heard of Eljuri until her CD
En Paz
– set for release May 20th – arrived unexpectedly in the mail last week. I'm guessing from the liner notes that the band was given my name by
Johnette Napolitano
's management. Johnette sings on one of the album's songs and the entire album is very reflective of her affection for flamenco music. Eljuri is Ecuadorian singer-songwriter and guitarist Cecilia Villar Eljuri. The music on
En Paz
(Spanish for "In Peace") blends Latin rhythms with rock riffs and light electronic beats.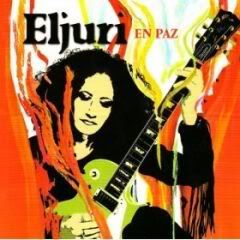 The opener "El Aire" has a mellow Latin Reggae vibe. "En Un Sueño" is a cover of a song originally written and released by Eljuri's mother, composer Olga Eljuri de Villar, in Ecuador during the 1960's. The album also includes Olga's original version as a bonus track.
Unfortunately, the strength and beauty of Cecilia's voice is sometimes lost amidst the production of certain tracks – such as "En Paz", which would be a much more poignant song if the vocals were given more of the spotlight. But overall, the album does well to modernize the rhythms of its Latin roots with electro-rock embellishments.
The stand out track is "Jaula", a sensual flamenco tune featuring vocals by former Concrete Blonde frontwoman Johnette Napolitano.
Eljuri Official Site
Eljuri MySpace