Unglamorous
is singer-songwriter Lori McKenna's fifth album. The title is a little ironic given that the album is much more polished and processed than the grittier folk sound of McKenna's previous releases. This is probably due to it being her first recording for a major label, as well as the influence of co-producer Tim McGraw and his wife Faith Hill. The Massachusetts mother of five toured with the country power couple – both of whom are guest vocalists on her album – after being catapulted to mainstream fame by the use of her songs on Hill's 2005 release
Fireflies
. I'm a fan of all three artists, but I don't think the super duo's big star style is a good fit for McKenna.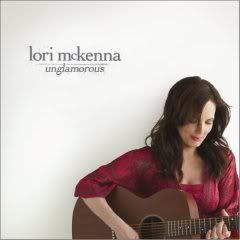 Despite the commercial veneer now slathered over Lori's signature vocal quiver and rootsy acoustics, the heart of her songwriting is still very much grounded in the bittersweet reality that originally drew fans to her music. Her lyrics are full of anger, isolation, struggle, loss, and even death. There are also moments of great joy, love, and hope. Unfortunately, these organic themes are often dampened here by cluttered production.
The Dobro driven "I Know You" shows off Lori's fierce vocal strength. Softer songs like the title track and "I'm Not Crazy" luster less while extolling the virtues of the simple life. Tim McGraw lends his voice to the al-anon anthem "Drinkin' Problems", and the sweet and catchy "Witness To Your Life" is one of the finer glossy tracks.
"Falter" and the sadly beautiful finale "Leaving This Life" return to the more organic style associated with McKenna's music, while "How To Survive" delves back into a classic country sound replete with weeping steel and fiddle. Faith Hill sings backup on the former, and the latter features backing vocals by Buddy Miller.
This album is definitely worth listening to, especially if you like country music. But it fails to recapture the artful charm of Bittertown
or Paper Wings & Halo
. Lori McKenna is currently on tour with Trisha Yearwood.
I was not granted permission to share an mp3, but you can hear samples at the links below.
Lori McKenna Official Site
Lori on MySpace
Buy the CD