Faithless will release
To All New Arrivals
in the U.S. later this year. I'm unclear on the reasons for the delay, since the disc was already released in Europe last year. I managed to get my hands on a sampler from the "upcoming" album, and I have mixed reactions to the new material. If I had never heard Faithless before, I would think this little five song teaser was incredible. But when compared to the band's captivating earlier works, particularly
Reverence
, it does fall short. But the disappointment isn't great enough to keep me from enjoying these new tunes and eagerly awaiting the rest of
To All New Arrivals
.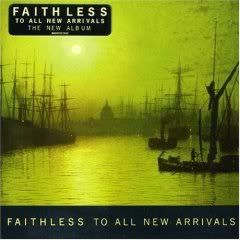 "Bombs" blends light politics with airy vocals and the band's signature trippy dance beats. "Music Matters" softens the sound even more, blowing a breezy pop melody across the dance floor.
"Kind Of Peace" manages to breath quite a bit of soul into Chan Marshall's languid voice, but the arrangement is nothing to get excited about. The title track takes a harsher dip into social commentary.
"Spiders, Crocodiles & Kryptonite" is the best song on the sampler. The track layers strong rhythmic pulses under eerie vocals. This is more like the Faithless I know and love.
Faithless Official Site
Faithless on MySpace
Buy the CD