Punk legend Patti Smith just released her eleventh studio album, Banga. It's her first release of original material since 2004's exquisite Trampin'
, so to say I was excited would be a ridiculous understatement. Largely inspired by Patti's travels and companions, Banga is an album of quiet exploration rather than the growling defiance that marked Patti's earlier releases.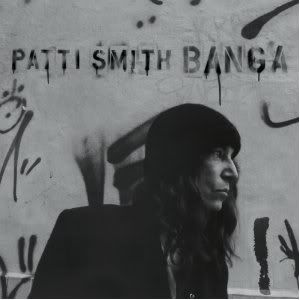 The gentle, semi-spoken word opener, "Amerigo," reimagines Amerigo Vespucci's 1497 journey to the New World.
It's the stunning ode to post-tsunami Japan "Fuji-san" and the album's swirling title track that let you know without question that this is indeed a Patti Smith album. You can hear the two tracks at NPR and Rolling Stone respectively and watch the official videos for the tracks below.
Other standouts are the mournful ballad "Maria" and the atmospheric "Seneca."
"This Is The Girl" is a retro-pop tribute to Amy Winehouse, while "Nine" was written for actor Johnny Depp. Both songs are an ill-fit for Patti's voice and for the overall album, but it's the thought that counts?
I, like most Patti Smith fans, hold her in such reverence that it pains me to say anything negative about her art. If I'm to be honest, however, I must admit Banga doesn't enthrall me nearly as much as classic albums like Horses
or even the more recent and astounding Trampin'. That being said, it's a bit like comparing a lesser Van Gogh sketch to Starry Night – it's still Van Gogh. Banga may not be a Patti Smith masterpiece, but it's still Patti Smith.
BUY @ AMAZON