My musical love affair with The Mynabirds continues (see my rave review of their album, Generals). The band recently released the video for the track "Disarm." No, it's not a Smashing Pumpkins cover. In fact, it sounds and looks more like a vintage Siouxsie & The Banshees tune. Love it.
The Mynabirds – Disarm from Saddle Creek on Vimeo.
The Mynabirds – Body of Work (mp3)*
*mp3 hosted by & posted w/ permission of band's PR rep
Have I mentioned I love The Mynabirds? The thumping, catchy, claphappy, fiercely femme indie sound of their new sophomore album, Generals, is somewhere between Lykke Li and Bats for Lashes. Thus the love. "Karma Debt" is a deceptively low key start, a strange mix of an ethereal melody, a prominent downtempo beat and foreboding lyrics. But the rest of the album is deliciously rife with the band's signature blend of synth-pop, rock, wails, hand claps and stomps. This is most especially the case with intoxicating, swaying, menacingly militant title track and "Wolf Mother," which begins with a slow, bluesy beat swirled with haunting background howls before cranking up the claphappy tempo and sultry defiance. If you haven't heard The Mynabirds yet, download the free, legal mp3 of "Body of Work" below. I guarantee Generals will be on my year end list.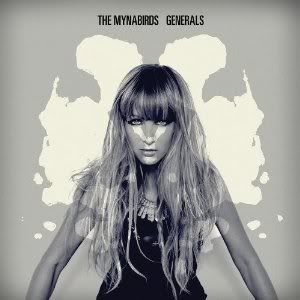 The Mynabirds – Body of Work (mp3)*
BUY @ AMAZON