In The Great Buck Howard, John Malkovich deftly portrays a washed up, prima donna "mentalist" who hires law school dropout Troy (Colin Hanks) as his personal assistant and road manager.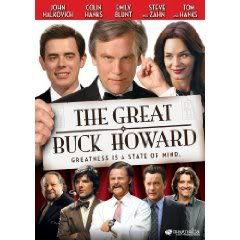 The character of Buck Howard is loosely based on magician The Amazing Kreskin, a Tonight Show regular who once employed writer/director Sean McGinly as his assistant and appears in one of the dvd's bonus features. The film also includes cameos by Tom Hanks, Conan O'Brien, Jon Stewart, Tom Arnold, George Takei, and Jay Leno.
As the story unfolds, Buck's career enjoys an unexpected revival – unexpected, that is, to everyone but the egotistical and eccentric Buck.
Jay Leno unwittingly becomes Buck's nemesis by first refusing to book the magician on The Tonight Show, then by bumping him in favor of Tom Arnold – an act that results in the film's funniest scene, during which Buck calls Jay "Satan!"
The movie lags when Malkovich is absent from the scene, but it is worth seeing him play such an uncharacteristically flamboyant character.
Buy @ Amazon