The Decemberists' previous release The Hazards of Love was one of my Top Albums of 2009, yet many seemed to criticize the album for its grandiose concept. In my view, lead singer Colin Meloy's predilection for literary references, eloquent prose and antiquated plot lines has always been the backbone of the band's music. The band took a much lighter approach to their sixth album, The King is Dead. Touted as "a deliberate turn towards simplicity," the new album initially suffered in comparison to The Decemberists' impressive repertoire. However, subsequent listens revealed that this collection of catchy country and folk songs has more depth than I initially thought.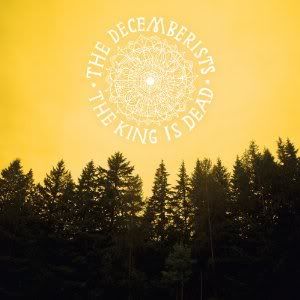 A monument to build beneath the arbors
Upon a plinth that towers t'wards the trees
Let every vessel pitching hard to starboard
Lay its head on summer's freckled knees
From the opening blast of harmonica through the finale, The Decemberists have woven layers of delicate instrumentation and poetic lyrics into even the most buoyant and infectious song on this album.
Gillian Welch can be heard on seven of the album's tracks, while R.E.M. guitarist Pete Buck guests on three songs.
My favorite track is "Rox In The Box." The melody sounded very familiar to me and my husband pointed out that it's "The Raggle Taggle Gypsy." Sure enough, the band did sample the Scottish (though oft recorded by Irish singers) border ballad for the song.
It's a shame we tend to hold good artists to a higher standard than mediocre ones. Though it may be less impressive than Picaresque
or Hazards of Love, The King is Dead is still Shakespeare compared to releases by most other bands.
And as much as I loved the multi-arc story of The Hazards of Love, it did lack the basic listenability necessary to make return visits to my stereo. Yet despite an absence of lyrical mythos to dissect in this review, I suspect The King is Dead will be an album I listen to often in the future.
I was not granted permission to share an mp3, but you can hear samples at the links below.
BUY @ AMAZON
The Decemberists Official Site