Greg Laswell's third full-length album Take A Bow will be released by Vanguard Records on May 4th. I first wrote about Laswell here three years ago when I reviewed his Through Toledo album. Since then his music has been played on Grey's Anatomy, True Blood, and One Tree Hill, and last year's Covers EP seems to have made people pay more attention to this very talented singer-songwriter.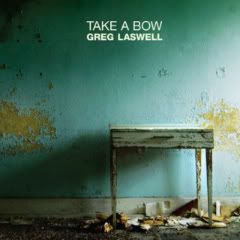 From the opener "Take Everything" through the swirling rocker "Around the Bend" onto "You, Now", the album is full of atmospheric pop melodies that are flushed out with Americana guitar riffs.
At times Laswell's vocals are a bit too languid to carry certain overly gentle arrangements, but his warm voice is the driving force in the livelier songs.
The standout "My Fight (For You)" has a deeper, melancholy rock sound that falls somewhere between Radiohead and V.A.S.T. The song's murky tone reminds me of Laswell's cover of "Your Ghost," and I hope he'll explore a darker rock style in future.
The title track has a pretty, tinkling softness to it, and there are hints of Elliott Smith in the somber acoustics of "Let It Ride" and "Goodbye."
Greg Laswell – Around The Bend (mp3 expired) *
*mp3 provided by & posted w/ permission of Vanguard Records
Buy @ Amazon
(not yet available)
Greg Laswell Official Site
Greg Laswell MySpace