Pina's distinctively raspy voice is unmistakable, incomparable, and mesmerizing. Her 2005 release,
Guess You Got It
, intensifies the organic sound of her debut,
Quick Look
, with heavier guitars and a light touch of electro-pop mixed into her unusual folk melodies. The Austrian singer-songstress studied classical guitar at Vienna's Conservatorium before moving to County Cork, Ireland to perfect her own "Gothic-folk" style of music. Later she would tour with Ani Difranco and record with Afro Celt Sound System before recording her first album.
Guess You Got It
blends acoustic and electric guitars with piano, mellatron, scratches, hand claps, and other sound effects.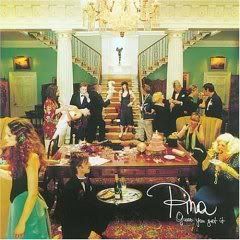 Pina's lyrics often mask very personal emotions and experiences in a clever combination of dense poetic metaphors and overly simplistic fragments. It's a charmingly mysterious ploy to pull you into the songs before you quite realize what they're really about. While Quick Look had a much darker tone to the music and lyrics, Guess You Got It often leans more towards happiness, hope, and love.
"I Was Walking" is instantly catchy and enthralling with its alternating rhythm in a tangle of hooting call-and-response vocals, hand claps, and twirling piano that gradually build into a frenzied, clamorous climax.
"Brand New Face" picks the pace up even more with a touch of twang and turbulent guitars. Like the opening track, "Burning" has an illustriously haunting and catchy hook. "Butterfly" falls into a deeper blues sound, while "On Such a Lovely Day" vibrates and purrs before digging up the gravel in Pina's throat. Then "Dark Blue and Gold" soars into an eerie wail.
As the title suggests, "Bucket of Love" and "Sweet Love" are happy songs about love. But not in some gooey, cheesy way. Pina uses an Appalachian folk strum mixed with bouncy piano beneath her husky screech to convey buoyant emotion. And while "You Can't Be My Love" begins as a somewhat simple piano tune, the bridge and chorus rip into the gut with a potent emotional force.
The awe that I felt when I first heard Quick Look was small in comparison to how much I adore Guess You Got It. I wish so much that I could share an mp3 from this album, but I was not granted permission by Pina's label. You can hear stream the album here.