Guest Review by: Brendan
I found Renée Fleming's 2005 release, Haunted Heart, while looking for different renditions of the song "My One and Only Love" and Renée's voice bathed me in warmth. It's an incredible performance of a song I've heard countless times before (runner up versions: Sting on the Leaving Las Vegas soundtrack
and the John Coltrane and Johnny Hartman
collaboration). This collection showcases the lower, more intimate range of Renée's voice. It's essentially a vocal jazz album, though it does feature a few classical tracks.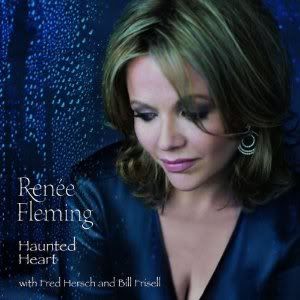 Another highlight of the album is Renée's rendering of Joni Mitchell's "River," which again for me transcends all other covers. The arrangement is sparse, and Renée pours her soul into the song.
"You've Changed" is injected with a level of desperation and yearning that previous versions fail to match, even Billie Holiday's. Renée's version reminds me of the saddest story I've ever heard – The Nightingale and the Rose by Oscar Wilde (which you can hear me read here).
Mahler's arrangement of "Liebst du um Schönheit" fits remarkably well alongside these pop and jazz classics. Accompanying Renée on Haunted Heart are legendary guitarist Bill Frisell and Fred Hersch on piano.
I don't appreciate Renée's 2010 pop album, Dark Hope
, quite as much, but it's also worth checking out for her versions of "Mad World" (Tears for Fears/Gary Jules) and "Endlessly" (Muse).
We were not granted permission to share an mp3, but you can hear samples of each track at the link below…
BUY @ AMAZON