The artist formerly known as Heidi Saperstein is now going by the name Heidi Lee as the frontwoman for
The SnowLeopards
. Unlike the pop-rock style of her new band, Heidi's solo debut
The Devil I Once Knew
had a less polished, more haunting sound. I first discovered her music back in 2001 on
Epitonic
.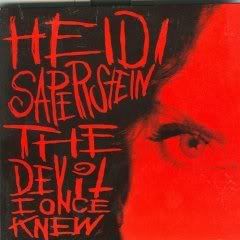 "Away" has a simple bass line beneath Heidi's plaintive voice on the verses, but the arrangement builds with each chorus as she unleashes a wail. The simmering intro and opening verse of "The Devil I Once Knew" remind me of the Grunge era, but the hypnotic chorus is something else entirely. The song is as striking as the album's blood red cover art.
The seductive "Put Our Lips Together" drops to simple acoustics, while the burning bass and howls on "Big Mama" call to mind the yesteryears of PJ Harvey. "Shakin" lives up to its name with a slightly twang in its clamorous vocal and musical exhibition.
"Cello" is an unexpected instrumental by Jonah Sacks. And "The Night" makes for a somber finale, but is spiced up with trumpet and strings.
Heidi Saperstein – The Devil I Once Knew (mp3)
Heidi Saperstein – Cello (mp3)
Buy the CD