Tag Archives:
historical fiction
Lynn D'Urso's debut novel Heartbroke Bay is a harrowing tale set in the late nineteenth century gold rush era. Eloquent prose travels with Victorian Englishwoman Hannah Butler from her whirlwind marriage to American prospector Hans Nelson and their seafaring adventure with a motley crew searching for unclaimed gold to their final destination in a remote Alaskan bay.
Landing in isolated Lituya Bay, the greed of Hannah's companions soon leaves them stranded in the strange and desolate frontier. Tensions build within the ill-prepared group as cruel winter approaches, culminating in a claustrophobic climax with few survivors. Based on a true story, this beautifully written novel is as exciting as it is tragic.
Buy @ Amazon
Pakistani-Australian author Azhar Abidi's debut novel Passarola Rising is truly (excuse the pun) uplifting. I happened across the book in a local library and was attracted to the bright blue cover featuring a ship sailing on air. Passarola Rising is a historic fantasy adventure that reminded me of both The Three Musketeers
and Gulliver's Travels
.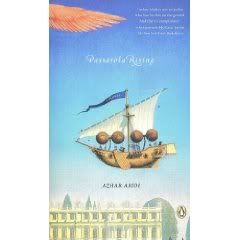 Initially set in eighteenth century Portugal, the story centers on brothers Bartolomeu and Alexandre Lourenço. The brothers escape The Inquisition by fleeing in priest-turned-scientist Bartolomeu's airship, The Passarola. Their adventures on air, land, and sea are exciting and fast-paced. There's also a great deal of poignancy, as the brothers struggle with issues of faith, politics, and love, as well as battles both mental and physical.
I didn't realize until finishing the novel that only the more fantastical elements of the story are fiction. Bartolomeu Lourenço de Gusmão was really an eighteenth century Brazilian priest and inventor who worked on a design for an airship. Modern sources differ on why he didn't complete the airship, but interference by The Inquisition was rumored to have stopped his work. Whatever the truth about the real Bartolomeu was, I can't imagine it was any more interesting than Abidi's beautifully written fable.
Buy @ Amazon