The Sweetback Sisters will released their new album, Lookin' for a Fight, on May 31st via Signature Sounds Records. The album is a delightful nod to vintage Western swing, honky tonk and classic Nashville country. Covers of songs originally recorded by legends like Patsy Cline are interspersed several new originals that fit right in.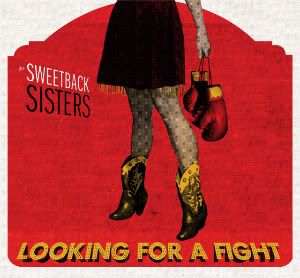 The songs on Lookin' for a Fight, particularly the spectacular backing harmonies, were inspired by and recorded in the one-mic style of records from the 1950s/1960s era of country music.
The album consists of seven new original songs by the band along with renditions of Patsy Cline's "Love Me, Honey Do," The Sons of the Pioneers' "Cowboy Ham & Eggs," The Traveling Wilbury's "Rattled" and Hazel Dickens' "Don't Put Her Down."
My personal favorites on the album are the swaggering title track and the cover of Dwight Yoakum's "It Won't Hurt When I Fall Down From This Bar Stool," but the whole album is a toe tappin', hip shakin' wonder. I expect it to be on my best of the year list come December.
The Sweetback Sisters will play at The Empty Glass in Charleston, WV on May 27th.
Pre-Order @ Amazon
The Sweetback Sisters Official Site
The Sweetback Sisters MySpace