Stewart O'Nan has become a favorite author in the Muruch household. I (Vic) first fell for his writing in 1994 when his stark and mesmerizing debut novel, Snow Angels
, was released, and Brendan loves O'Nan's 2007 novel Last Night at the Lobster
enough to re-read it every winter. We both recently read (and loved) O'Nan's new book, The Odds: A Love Story, within a few days. The novel follows a middle-aged American couple on the brink of bankruptcy and divorce on their troubled second honeymoon in Niagara Falls. But all is not what it seems. The true motive for the journey and real causes of their disintegrating romance are slowly revealed through each spouse's thoughts and actions during their two turbulent days at the falls.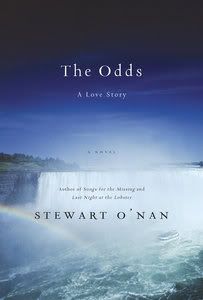 The final weekend of their marriage hounded by insolvency, indecision, and, stupidly, half secretly, in the never-distant past ruled by memory, infidelity, Art and Marion Fowler fled the country. North, to Canada.
The marital plot and short timespan of The Odds reminded me a bit of Ian McEwan's On Chesil Beach (one of my Best Books of the Decade). The delicate mix of resigned affection and tension born of unspoken frustrations in particular make O'Nan's Art and Marion seem to be the aged counterparts to McEwan's newlyweds Edward and Florence.
Stewart O'Nan's prose and character insights are so heartfelt, intimate and exquisitely human that even his saddest moments hold a small ray of hope. The Odds is a very quick, enjoyable, beautifully written read.
BUY @ AMAZON