Irish singer Imelda May's sophomore album, Mayhem, was originally released in Ireland last November and will finally be released in the U.S. via Decca Records on July 19th. The followup to 2009's Love Tattoo was well worth the wait. The new disc adds just enough modern rock noise to Imelda's signature growling rockabilly sound to make it interesting without losing the retro style that makes her music so charming.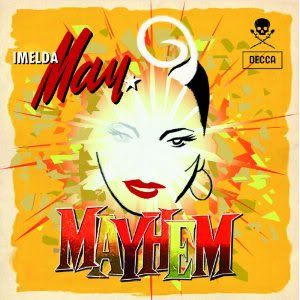 Catchy, high energy songs like the claphappy opener "Pulling The Rug," "Psycho," and the infectious title track have more of a pop polish than Imelda's debut, but are anchored by her fierce vocals, big brass and rumbling rock guitars.
"Kentish Town Waltz" is a pretty, wry ballad about young love. The rest of the album whirls through torchy jazz numbers and trumpet-fueled swing and rockabilly.
Mayhem closes with a swingin' cover of Soft Cell's "Tainted Love" and a new remix of Love Tattoo's "Johnny Got A Boom Boom." If you liked her previous album, you'll love this one.
Buy @ Amazon
I was not granted permission to share an mp3, but you can hear samples at the links below…
Imelda May Official Site
Imelda May MySpace