Guest Post By: Brendan
Thomas Newman is perhaps best known for his collaborations with Sam Mendes – I noticed his American Beauty
score featured heavily in the recent documentary Inventing David Geffen
. My favorite of their collaborations is Road to Perdition
, a gorgeous and delicate piano-driven suite. Newman's composition for Mendes' latest film, Skyfall, is a different beast – a heavily synthesized score which features few delicate moments.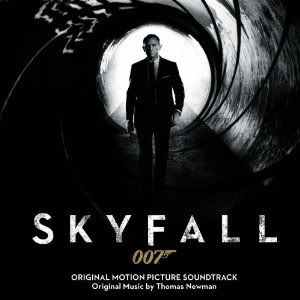 The tragic character of "Severine" provides a brief respite in a score which otherwise pummells you into submission. It is a glorious, 78-second string arrangement, conjuring memories of my favorite Bond music – John Barry's instrumental "We Have All The Time In The World
."
Skyfall is otherwise a surprisingly forgettable score, though I did enjoy the "Shanghai Drive" theme, its reprisal in the album's concluding track, "Adrenaline," and the percussive energy of "Silhouette." Monty Norman's original theme is incorporated particularly well in "Breadcrumbs."
Adele's "Skyfall"
was oddly not included in the US release of the film's soundtrack.
BUY @ AMAZON