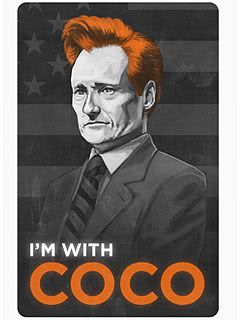 I think my rave review of Conan O'Brien's Tonight Show debut explained my love for Coco enough for you to understand my disappointment over NBC's decision to replace him with a dinosaur devoid of humor.
NBC had a great late night pairing with Conan followed by the new Jimmy Fallon Show (it doesn't get much better than The Roots), and I'm sorry to see them mess it up with such a huge step backwards.
In case you don't know what I'm talking about, NBC has announced that it will move Jay Leno's corpse of a show back into Conan's timeslot and Conan released a statement declining their pathetic offer to keep his job in order to avoid ruining The Tonight Show or bumping Jimmy Fallon's show back further.
I'll still watch Jimmy at whatever time he ends up at, but before that I'll follow Conan wherever he goes.
Tonight Show w/ Conan O'Brian Official Site