Tag Archives:
john legend
From A&E's Shining a Light Concert…
Estelle is a British singer-rapper whose UK hit duet with Kanye West has only recently hit the American airwaves. Estelle's luscious voice is the big attraction on her sophomore album
Shine
, but the music also draws attention by sliding through infectious beats and ambient melodies. In addition to West, the album also features guest vocals by its producer John Legend and Wyclef Jean. Estelle was born the second of eight children in West London, the daughter of Senagalese and Granadan parents. A chance encounter with Kanye West and John Legend at Roscoe's House of Chicken & Waffles (I don't know what that is, but it sounds good!) in LA led to their professional collaborations.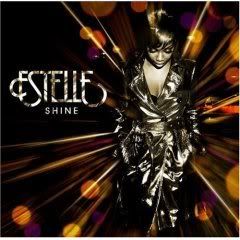 "Wait A Minute (Just A Touch)" serves as a fine introductory showcase of Estelle's blend of soulful crooning, throaty raps, and catchy beats. The track samples C & C Music Factory's "Just A Touch Of Love", Edwin Starr's "Easin' In", and Screamin' Jay Hawkins' "I Put A Spell On You", though only the former is obvious on first listen. The use of George Michael's "Faith" in "No Substitute Love" seems like a slight misstep, but the tune is otherwise likable.
"Magnificent" and "Come Over" have a light reggae-soul vibe. The former features Kardinal Offishall and was co-written by Amy Winehouse producer Mark Ronson. Wyclef Jean guests on the rhythmic, rap-centric track "So Much Out The Way", which harvests elements of Grover Washington's "Hydra" and Bob Marley's "So Much things To o Say".
The supercatchy stand out "American Boy" features Kanye West and John Legend. Legend lends backing vocals to several tracks before finally sharing the spotlight on the smooth and pretty duet "You Are". "Back In Love" glides into a gentle, laid back mood, while the vibrant Cee-Lo collaboration "Pretty Please (Love Me)" mixes retro soul with orchestral strings.
I was not granted permission to share an mp3, but you can hear samples at the links below.
Buy @ Amazon