Tag Archives:
johnny cash
If you've found this post Googling "who sings "Ring of Fire" in Man of Steel?"…the answer is: it's Canadian singer-songwriter Allison Crowe.
We here at Muruch first broke the news of Allison Crowe's involvement in the new Superman movie last month after two years of keeping the secret. As I said in that post, Allison Crowe is Muruch's musical mascot, we've supported her music here since 2005, she has time and again repaid that support by premiering music on Muruch, and we recommend her above and beyond any other artist we've ever posted about here.
We're now free to reveal that her role in Man of Steel is really more of a cameo performing the aforementioned Johnny Cash tune. Her scene was filmed in The Cassidy Inn bar on Vancouver Island. I hope eventually we'll be able to share more details, audio and/or video of her scene, but details and clips are extremely guarded at this point.
To celebrate the release of the film and hopefully introduce new fans to her own music, Allison has put together a new collection called Songbook which features 22 songs from her previous releases. You can listen and purchase the songs below…
Buy Allison Crowe Music @ Amazon
The new DVD
The Best Of The Johnny Cash Show 1969-1971
collects some of the top performances from the man in black's television show. If you're unfamiliar with the show, all you need to know is that the DVD shows Cash, his wife June Carter, and artists like Bob Dylan, Joni Mitchell, George Jones, Neil Young, Creedance Clearwater Revival, Loretta Lynn, Ray Charles, and Roy Orbison performing some of their classic hits. Both as individuals and occasionally as duets with their host Cash.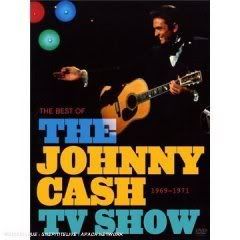 Highlights include Cash's opening "I Walk The Line", young Bob Dylan's "I Threw It All Away", George Jones' "She Thinks I Still Care", Neil Young's "The Needle & The Damage Done", John Fogerty & CCR's "Bad Moon Rising", Loretta Lynn's "I Know How", Ray Charles' soulful cover of "Ring Of Fire", Roy Orbison's "Crying", and Cash's rousing finale of "A Boy Named Sue".
Also of note are Cash's duets with wife June Caster Cash on "Jackson", with George Jones on "White Lightning", and especially the beautiful duet with Joni Mitchell on "The Long Black Veil".
Here's a video of Cash performing "A Boy Named Sue", though it doesn't appear to be the same clip as on the DVD.
Johnny Cash – A Boy Named Sue (video)
Buy the DVD