Ann Wilson is probably best known as the wailing brunette half of the pop-rock band Heart. The September 11th release
Hope & Glory
is Ann's first solo album, though she only sings alone on three tracks. The rest of the disc is a collection of duets. Among the guest singers are Ann's sister Nancy Wilson (the blonde guitarist half of Heart and wife of director Cameron Crowe), Elton John, K.D. Lang, Wynonna, Gretchen Wilson, Alison Krauss, Shawn Colvin, and Rufus Wainwright. Eleven of the twelve tracks are covers, with one original for the finale. Wilson tackles classics by Dylan, Lennon, Young, and Zeppelin as well as a modern classic by Lucinda Williams.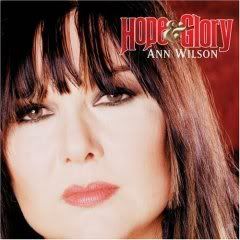 Hope & Glory is both better than I expect and somewhat of a disappointment. I feared that Ann may follow Linda Rhonstadt and Suzy Bogguss into softer territory rather than using the full potential of her voice, which I believe is one of the strongest female voices of the past four decades. But while Ann never fully unleashes those pipes, she does keep enough fire and depth in her singing to avoid mellow mediocrity.
The arrangements are also quite nice, often mixing pop and rock in a similar fashion to Heart with the addition of strings, steel, piano, and occasionally banjo for more melodic flow. I was pleasantly surprised by the slightly pumped up yet still very rustic take on Lucinda Williams' "Jackson".
Ann really shines during the few times that she has the spotlight to herself or when she shares it with her sister, particularly on the ominous "Goodbye Blue Sky", her astounding cover of Led Zeppelin's "Immigrant Song", and on the original track "Little Problems, Little Lies".
Unfortunately, that powerhouse voice often seems confined in order not to outshine the weaker guest vocalists. Only Wynonna, who appears on the howling "We Gotta Get Out Of This Place", seems capable of matching Ann's range enough to allow her to really belt it out.
In the same way that Patti Smith recently used the songs of others to express her feelings on the state of the world today, the songs that Ann chose to cover on Hope & Glory share a theme of despair over war and hope for peace. I do hope that Ann will record a true solo album in the future, one that will grant her voice the freedom to soar to its full height. But there's definitely more to enjoy than complain about in this initial step.
Buy the CD