Dengue Fever's fourth studio album, Cannibal Courtship was just released on April 19th. As I said when I first posted the "Cement Slippers" mp3 back in February: The followup to 2008's spectacular Venus on Earth again finds the Cambodian psych-rock band singing in English and Khmer. The album also features backing harmonies by Eleni Mandell's trio The Living Sisters.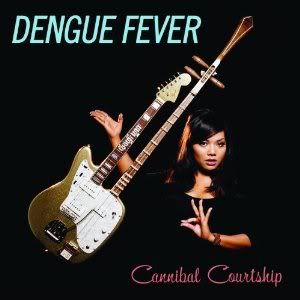 While Venus on Earth had a funkier, multi-cultural take on Khmer rock, the new songs were painted with a more subtle, melodic brush. Yet the new album still has plenty of exotic quirks and psychedelic swirls.
Chhom Nimol's eerily sultry siren call of "be my sacrificial lamb" in "Cannibal Courtship" is a prime example of why Dengue Fever can't possibly be compared to anyone else.