Troubadour was the 2009 sophomore release by Somali-Canadian rapper/singer-songwriter and poet K'NAAN. I was first introduced to K'NAAN's music last year when a friend played his beautiful song "Wavin' Flag" for me. A few weeks later, I saw K'NAAN's jubilant and superbly entertaining performance on Austin City Limits and I was hooked.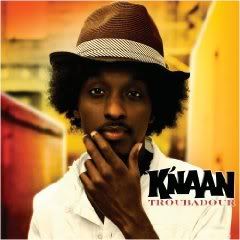 K'NAAN is often compared to Bob Marley, but he names modern rapper Nas as his biggest influence. K'NAAN – whose name means "traveller" in the Somali language – fled Mogadishu with his mother when he was just fourteen years old. He found solace in American rap music while living in New York, and eventually began his own musical career in the Canadian hip-hop scene after settling in Toronto.
K'NAAN's lyrical content is often overtly political, addressing issues in his homeland of Somalia. Many of the songs on Troubadour mix reggae melodies with light hip-hop beats and K'NAAN's spoken word poetry. Unfortunately, with the exception of "Wavin' Flag," the glossy rap-centric production of the album diminishes the joyous, organic quality of K'NAAN's live performances.
I was not granted permission to post an mp3 from the album, but I can share this "Celebration Mix" from Coca-Cola's World Cup campaign. I don't normally bother posting remixes, but I'll make an exception since this one was reworked by K'NAAN himself and is actually good…
K'NAAN – Wavin' Flag (Celebration Mix) (mp3 expired) *
*mp3 provided by & posted w/ permission of artist's PR rep
Buy @ Amazon
K'NAAN Official Site
K'NAAN MySpace
Here are two mp3s from Somalian MC and singer K'naan, who is currently touring with Stephen Marley. K'naan's debut album,
The Dusty Foot Philosopher
, is set for release later this year. The album will feature cameos by Marley and Mos Def, among others. I especially like "Soobax", which has an African meets hip-hop beat. "Strugglin'" is a more typical rap song.
K'naan – Soobax (live edit) (mp3)
K'naan – Strugglin¹ (live version) (mp3)