I remember the days when Gaba Kulka sent me CDRs of her music with handmade liner notes. This week I received a new, professionally packaged DVD featuring a live concert by the Polish songstress and her band. Live Rabbit is a welcome mark of Gaba's growing success. The visual quality of the DVD is one of the best I've seen, like you're sitting on the front row as Gaba and her band perform. And what a concert it was…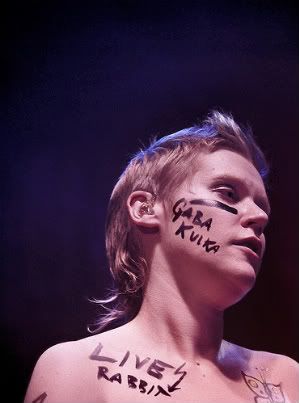 Looking both exquisitely feminine in a frilly pink dress and utterly punk-rock with razored hair, tattoo-speckled arms and a streak of black below her right eye, Gaba launches into "Królestwo ipól" from Out and "Propaganda" from Hat, Rabbit. No introduction is provided or needed.
The show really begins to take off when Gaba jumps up to center stage for "Rolemodels." The jaunty, cowbell-accented band arrangement is grand and the crowd went wild over the electric guitar turned violin. The best concerts always result from the entire band having fun together on stage, and this is certainly true of the chemistry and antics of Gaba and her bandmates.
Gaba gives a charming performance of "Heard the Light" with the band, and her solo piano rendering of "Magdalena" is absolutely stunning.
Yet it's the high energy songs "Niejasności" and "Hat, Meet Rabbit" that prove to be the standouts of the DVD. Even without the flashing lights and smoke, the frenetic pace of each tune is enough to work the crowd into a frenzy.
You can watch the "Propaganda" video and buy the DVD at Gaba's official site. Note: this is a Polish DVD and seems to be a Region 2 (Europe) code. It wouldn't play in my regular Region 1 (U.S.) DVD player, but worked fine on my laptop DVD player. So just make sure you have a DVD player that plays Region 2 DVDs.
Gaba Kulka Official Site (Buy DVD)
Buy CDs @ Amazon