Tag Archives:
live recordings
Guest Post By: Brendan
I've considered myself a jazz fan for nearly a decade, but somehow I'd never heard of Sheila Jordan. This week I have happily rectified this egregious error by listening to her 1990 concert recording, Yesterdays. Yesterdays combines the singular musical talent of Sheila Jordan with the expert accompaniment of bassist Harvie S, a frequent collaborator of Sheila's. Sheila Jordan doesn't just perform a song – she inhabits and rebuilds it.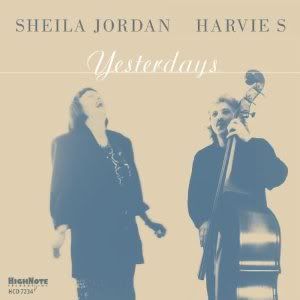 Sheila's mastery of the art is so astounding that formerly familiar songs are born anew under her tutelage. I've collected many versions of "You Don't Know What Love Is" over the years, but I feel like I've never really heard the song until now. Jordan's sparse construction of the song put me in mind of James Joyce's description of Michael Furey in The Dead: "Such eyes as he had: big, dark eyes! And such an expression in them — an expression!"
Another remarkable moment on the disc occurs towards the end of Sheila's gorgeous texturing of Ray Noble's "The Very Thought Of You." Sheila interjects a playful response to a critic who had pointed out her lack of attachment to the melody on a previous iteration of the song.
Like all the best jazz vocalists, Sheila Jordan uses her voice as an instrument, complete with scatting and wordless vocalizations. This album won't work as background music – it demands and deserves your attention.
Sheila Jordan performed with Charles Mingus and Charlie Parker in the 1950s, continues to work today and was honored as an NEA 2012 Jazz Master.
Yesterdays is a 2012 Highnote Records release with liner notes by Kirk Silsbee.
BUY @ AMAZON
Track Listing:
Yesterdays
Better Than Anything
The Very Thought of You
You Don't Know What Love Is
Fats Waller Medley: Honeysuckle Rose/ Ain't Misbehavin'
Mood Indigo
Waltz for Debby (Lazy Day)
I Concentrate on You
Lazy Afternoon
Blue Skies
Fred Astaire Medley: Let's Face the Music & Dance/ Cheek to Cheek/ I Could Have Danced All Night