The Forgetting Place is the upcoming fourth album by Jeff Ellis, an incredibly talented local singer-songwriter from Huntington, West Virginia. I didn't doubt that any album released by NewSong Recordings would be good, but I was still surprised at the high quality of these songs. Ellis was the winner of Mountain Stage's 2008 NewSong Contest. He is currently serving a thirteen-month deployment in Iraq, but his true calling is obviously music. The Forgetting Place will be released by NewSong Recordings on March 23rd.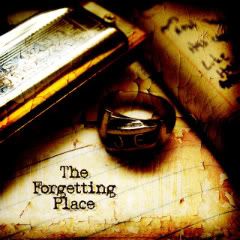 it's a solemn retreat from things that won't let you be
when all you want is to be left alone
or a drunkard's delight, a safe place in the night
for those who don't want to go home, no,
for those who don't want to go home
The album's title The Forgetting Place and the lyrical content of the songs were inspired by Ellis' own breakup (judging from these songs, it didn't end well) and feature characters he created that were trying to forget their own painful situations.
Tracks like the opener "If He's So Good To You" and "Still Ain't Over You Yet" are catchy, guitar heavy Americana songs slightly reminiscent of Tom Petty.
Though the acoustics are soft and dusky on the harmonica accented "Russell and Honeybee" and piano driven "Is Something The Matter," Jeff's soulful vocals and poetic lyrics make the two songs stand out more than the harder tracks.
"Fooled" has a great blend of light blues, country, and rock. As Jeff can be heard saying at the end, "Well, the four of us played that pretty damn near perfect."
"Jealousy" throws some beautiful bluegrass instrumentation into the mix, and the lovely title track seems to have a Medieval folk twist to it.
I hesitate to bestow such a weighty compliment on any one album, but there are moments in The Forgetting Place that almost remind me of the late, great Vic Chesnutt. But there are also songs that remind me of everyone from Springsteen to Live to Chris Thile. You have to love a record that can't really be pinned down to one comparison. It's just really great music.
Ellis will spend his two weeks of leave from the Army in West Virgina this month performing at several local venues to support the album release. He'll do a solo acoustic performance at Empire Books in Huntington, WV on Saturday, March 20th and a set with a full band at The Empty Glass in Charleston, WV on Thursday, March 25th.
I really hope Jeff makes it home again to fully devote his life to music, because this guy needs to be more than just a local musician.
Jeff Ellis – The Forgetting Place (mp3 expired) *
*mp3 provided by & posted w/ permission of record label
Buy @ Amazon