Lost Highway by Richard Currey is one of the best novels I have ever read, and I've read more books than I can remember. I highly recommend it to fans of Crazy Heart. Lost Highway's protagonist Sapper Reeves may be a tad more sentimental and genteel than old Bad Blake, but he's every bit as authentic and enthralling. And Richard Currey's prose is refreshingly eloquent without detracting from the simplistic nature of this country musician's story or its rustic Appalachian setting.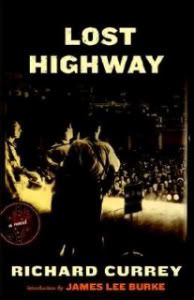 Lost Highway spans the life of fictional West Virginian banjo player Sapper Reeves, starting with his optimistic early days as leader of the bluegrass band The Still Creek Boys. The story follows the band from their starving but enthusiastic musical beginnings through their brief brush with fame and subsequent disillusionment – all the while artfully portraying their struggle to survive the arduous life on the road.
As his band and his mental state slowly disintegrate, so does Sapper's previously happy marriage. He soon finds himself seeking solace from the bottle as all that he formerly loved slips away. This is only the beginning of the drastic changes and heart-wrenching losses the aging musician will face before the end of this beautiful novel. Just as he is dealt his most crushing blow, life grants Sapper a bittersweet second chance.
I checked out Lost Highway from the library last week and read it in two sittings. I'll be buying my own copy after publishing this review, because this is the kind of book I will re-read and relish for years to come.
Buy @ Amazon