Guilt By Association
is a compilation featuring indie bands covering pop songs that's sure to please indie and pop fans alike. Especially those of us who like to pretend we have classy taste in music, but truly love the cheesiest of "guilty pleasure" songs. Some of the indie coverers are Petra Haden, Devendra Banhart, Luna, The Concretes, Bonnie "Prince" Billy, The Mooney Suzuki, Superchunk, and Mike Watt. While the popsters given the indie treatment include Journey, Oasis, Shania Twain, Paula Abdul, Take That, Spice Girls, Fall Out Boy, Mariah Carey, Barry White, Cher, Eddie Money, Destiny's Child, and Blue Oyster Cult.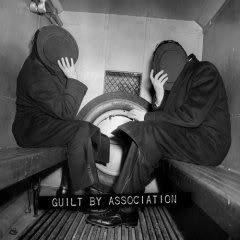 The opening track is by far the best. Petra Haden does an astounding and soulful a capella rendition of Journey's "Don't Stop Believin", using layered vocals in the place of instruments. And listen at the end of the song for a brief homage to "Hold On" by Wilson Phillips.
Devendra Banhart and Noah Georgeson deliver a strange and entrancing cover of Oasis' "Don't Look Back In Anger". And I'm really beginning to think that Luna should release a covers album of their own. I loved their version of GNR's "Sweet Child O' Mine" on the Dreamworld compilation, and equally delectable is their low key jazz-twang take on Paula Abdul's "Straight Up".
The Mooney Suzuki does a heartfelt tribute to Cher on their alt-rock version of "Just Like Jesse James", and Superchunk give Destiny Child's "Say My Name" an indie-rock makeover.
Other covers drag the disc down with dull source material, paint-by-numbers arrangements, or lackluster performances by the singer. That deadpan style may still be trendy among "indie" bands, but I prefer a little more oomph.
But then there are bands like The Concretes that can take a song I hate like Take That's "Back For Good" and force me to like it against my will. Jim O'Rourke accomplished the same feat with his languid and atmospheric transformation of "Viva Forever" by Spice Girls. And though I like Fall Out Boy's new album well enough, I despised the original "Sugar We're Goin' Down". Yet this new blues-pop version by Goat is very pleasant and catchy.
I can't ask more from a cover album than for it both enjoyable on its own merit and to improve my opinions of the original songs.
Buy the CD