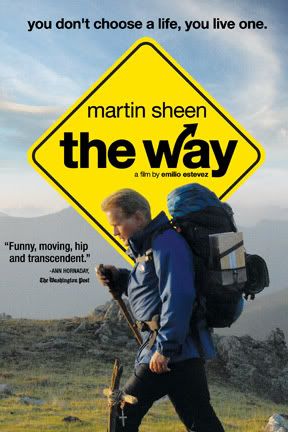 The Way is a unique and very moving film about a grieving father's journey in honor of his only son.
Brilliantly written and directed by Emilio Estevez, this lovely and atmospheric work of art stars Estevez's real life father, Martin Sheen. Sheen beautifully portrays the intensely mixed emotions of bereavement.
When his son (played in brief flashbacks by Estevez) dies at the beginning of a pilgrimage on El Camino de Santiago ("The Way of St. James"), a cynical and materialistic American doctor (Sheen) spontaneously decides to take his son's ashes the rest of "The Way."
There are very slight, subtle elements of spirituality due to the setting, but it's much more about one lonely man's physical and emotional sojourn – or, as Sheen deems it in one of the DVD's featurettes, "the inner pilgrimage" and the importance of "community."
That community comes in the form of strangers Sheen's character randomly encounters on his arduous trek. Each traveler is searching for some kind of healing and their respective internal quests bond them together as much as their shared passage. Among the supporting cast is the divinely talented James Nesbitt, who provides comic relief as an abrasive and somewhat manic Irish writer.
Poignant, funny, ultimately uplifting, featuring gorgeous panoramas and breathtaking Spanish architecture, and set to a wonderful soundtrack that includes the music of Nick Drake, Alanis Morissette, and The Shins, The Way is one of the best films of the past decade.
BUY DVD @ AMAZON