Tag Archives:
maya angelou
From A&E's Shining a Light Concert…
Stranger Than Fiction
is a two-disc set featuring "The Wrockers" and "Rock Bottom Remainders" – bands composed of several famous authors. Among them are Amy Tan, Ridley Pearson, Dave Barry, Maya Angelou, and Stephen King. Brought together by former literary publicist Kathi Kamen Goldmark of Don't Quit Your Day Job Records, these talented writers obviously had a wonderful time displaying their often less than stellar singing abilities. It's by no means a great album, sometimes not even a good one. But it sure is a lot of fun, especially if you are a bookworm like myself.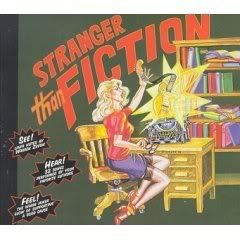 Stranger Than Fiction features liner notes written by Warren Zevon, who also appears on the album. Some of the highlights on the two discs include the ode to a well read female "Proofreading Woman" (featuring Dave Barry, Ridley Pearson, Carl Hiaasen, Amy Tan and more), "Right, Said Fred" by Maya Angelou and Jessica Mitford, "Stand By Me" by Stephen King (fitting, eh?) & Warren Zevon, Ben Fong-Torres' parody of Bob Dylan on "Rainy Day Bookstores", the hilarious "Johnny Get Angry" by Walter M. Mayes, and perhaps the only vocal performance that could actually be called singing: "You Can't Judge A Book By The Cover" by Stephen King and Kathi Kamen Goldmark.