Provenance is the fifth solo album by cellist Maya Beiser. If Maya's name isn't familiar, her cello is. Maya played on the soundtracks to M. Night Shyamalan's The Happening, Denzel Washington's The Great Debaters, and Edward Zwick's Blood Diamond. Maya's own multi-cultural collection Provenance features an exotic array of compositions from Armenia, Iran, Israel, and America. The album took its inspiration from the co-existence of Muslim, Christian, and Jewish art and culture during medieval Spain's Golden Age.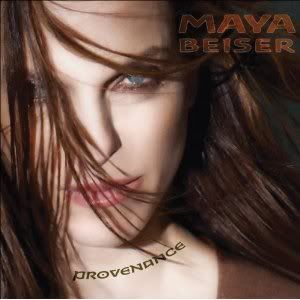 Provenance opens with the four-movement "I Was There" by Iranian composer Kayhah Kalhor, which is based on a melody by legendary Kurdish poet-musician Ziryab. The arrangement and instrumentation have a darkly evocative and rhythmic flow about them.
The deep, mournful bellow of Maya's cello ushers in Armenian composer Djivan Gasparian's somber two-part "Memories."
The powerful voice of Etty Ben-Zaken stands alone for the haunting acapella intro to "Mar de Leche" before Maya and her band delicately began to play its beautiful, intricate melody. The four-movement piece by Israel's Tamar Muskal sets an ancient Ladino (Hebrew-Spanish) love song to a contemporary arrangement.
A thunderous, swaying instrumental rendition of Led Zeppelin's "Kashmir" closes the album. You have to love a classical artist who covers Zep.
I was not granted permission to share an mp3, but you can hear samples at the links below.
Buy @ Amazon