Irish actress and singer Maria Doyle Kennedy is best known on this side of the Atlantic as villainess Mrs. Bates on PBS' hit series Downton Abbey
. In her native Ireland, Maria is probably better remembered for her backup singer role in The Committments and her guest spot as Eoin McLove's assistant on Father Ted. But with the release of her 2008 album, Mütter, Maria's gorgeous voice was able to shine on its own. Her latest musical effort, Sing, will be released on September 10th in the U.K. and September 18th in the U.S. The album features guest appearances by Damien Rice, Paul Brady and John Prine.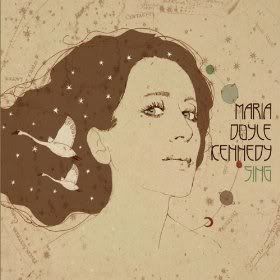 The ballad "Am I Choosing Right" quietly opens the album before Irish singer-songwriter Damien Rice duets on the gentle acoustic title track. You can watch the video for "Sing" below.
"The Silence" is the standout track with its eerily delicate string and bell arrangement, a perfect fit for Maria's unusually textured voice.
"Hola Luna" is a slightly more uptempo, string-accented folk number that rises beautifully as it goes along. Paul Brady guests on the track.
"The Most Beautiful People Are Broken" is a lovely poem of a song, and "Sing from the Sea" is one of those lilting, seafaring folk songs that only the Irish can sing.
BUY CD @ AMAZON
BUY MP3S @ AMAZON
Buy @ Amazon.co.uk
Maria Doyle Kennedy Official Site