Listen to Me: A Tribute to Buddy Holly was released so shortly after the Rave On Buddy Holly that it got lost in the shuffle of my review folder last year. Even months later, Listen to Me still suffers by comparison to the other Buddy Holly tribute. This is at least in part due to what seems to be a bit of a musical identity crisis – some truly great folk and rockabilly moments are lost betwixt bland pop covers and random classic rock. It's good enough to bother reviewing, but had the potential to be so much better.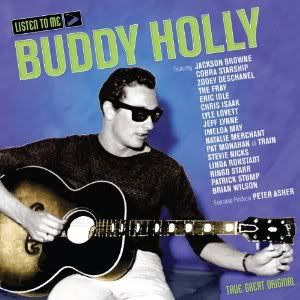 The opening cover of "Not Fade Away" by Stevie Nicks can't hold a candle to Florence & The Machine's wailing, quaking rendition on Rave On Buddy Holly, but it is nonetheless endearingly peppy and handclappy.
Imelda May's brassed up, punk meets rockabilly take on "Lookin' for Someone to Love" and Linda Rhondstadt's classic 1976 cover of "That'll Be The Day" are highlights.
The stand out track is a beautiful piano and vioin rendering of "Learning the Game" by Natalie Merchant.
Fall Out Boy singer, Patrick Stump, gives a surprisingly gentle and melodic version of "Everyday," but I was disappointed with Zooey Deschanel's "It's So Easy." I usually love anything she sings, but this particular arrangement weighs her voice down.
The humorous spoken word "Raining in My Heart" by Monty Python's Eric Idle is the tribute's bizarre finale. Otherwise, this is a very safe, adult contemporary collection of Buddy Holly covers. Which isn't a bad thing, just nothing to get excited about.
BUY @ AMAZON