Meghan O'Rourke's The Long Goodbye is a touching memoir regarding her mother's death. The New York poet wraps the raw emotion of such a somber subject in graceful and eloquent prose. Meghan shares the various intense emotions she experienced during her mother's battle with cancer and the agonizing void left in her mother's absence. As she describes it, "A person was present your entire life, and then one day she disappeared and never came back. It resisted belief."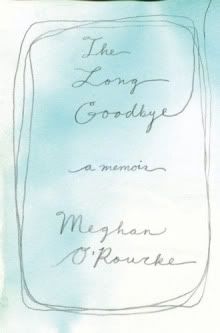 Recommended to me by Sonya Cotton, the book connected with me in a very personal way. I prefer not to reveal much about myself here, so I won't go into details. I will say, though, that I'm always shocked when anyone says they've never lost a loved one or been to a funeral….both have been such frequent events throughout my life that mourning has been intricately woven into my childhood and adolescent memories.
The book also examines the way certain cultures embrace mourning to the point of ritual while others shun it completely, and how a person's community affects their expression (or suppression) of grief. It is by no means a happy read, but it is beautifully written and brings a sense of emotional kinship and solace to those of us who have known loss.
BUY @ AMAZON