Tori Amos's new album, Night of the Hunters, will be released on September 20th via classical record label Deutsche Grammophon. With an orchestra composed of Polish string quartet Apollon Musagéte, Berlin Philharmonic clarinet soloist Andreas Ottensamer and various other classical musicians, Tori incorporates pieces by Bach, Schubert and other classical composers into her own sprawling alterna-piano arrangements.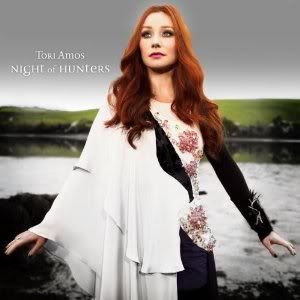 I had eagerly awaited Night of the Hunters since its May announcement and last month's "Carry" video only increased my excitement. I've listened to this "21st century song cycle" about a million times since receiving the advance a few weeks ago and revised my review almost as many times, since my opinion seems to change with each listen. It is definitely a grower, though initially I had that "I shouldn't have to try so hard to like an album" reaction.
Today, however, I find myself loving the grandeur and scope of this unusual project and the music, which captivated me from the beginning, is unquestionably magnificent in any mood. As a classical music fan, I loved Tori's idea of basing the arrangements on classical compositions and was intrigued to hear her explore the genre. The concept was better in theory than execution at times, but the instrumentation throughout the album is flawless.
The dark, solitary peal of Tori's piano which opens "Shattering Sea" sent a shiver of anticipation down my spine. A gentle pluck of strings gradually joins the piano before the arrangement explodes into a glorious symphony of sound. All this before the first verse is sung. Even Tori's voice has returned to its old self. Gone is the gratingly Auto-Tuned, multi-tracked falsetto of the post-Beekeeper
era, this is the lilting, pre-Scarlet's Walk
alto of the real Tori Amos.
"That is not my blood on the bedroom floor," Tori warns before launching into the album's dual narrative of a modern relationship disintegrating and a mythic romance in ancient Ireland. The chorus of the song becomes a bit repetitive, but the instrumentation is exciting and multi-faceted throughout what is one of Tori's best songs to date.
Things slip a bit with "Snowblind," which is the first of many appearances of Tori's eleven year old daughter singing as a time-travelling shapeshifter named Anabelle (this is, after all, a Tori Amos album). Natashya Hawley actually has a beautiful voice and I truly wouldn't mind hearing an album of her own – in fact her almost solo singing of "Job's Coffin" is one of the album's highlights.
The problem lies in the muffled production quality of Natashya's recordings, which I can only assume was intended to give her character an "otherworldly" sound. The gimmick just doesn't mesh with the smooth quality of the song's other elements, particularly that of her mother's voice. Subsequently, the badly spliced audio intercuts of "Anabelle" (which are especially irksome when Tori and Natashya trade lines in "Cactus Practice") detract from the beauty of the music. However, the melody, arrangement and instrumentation of "Snowblind" are impeccable and there's an almost Mahleresque use of horns as embellishment.
"Battle of Trees" is an example of lost potential. The divinely complex arrangement would have been splendid as an instrumental, but Tori's quirky vocals are ill-arranged over the nine-minute melody.
My personal favorite is "Fearlessness," which burgeons from a deep well of bassoon and strings into a lovely piano melody that elicits the prettiest tone of Tori's voice heard since Under the Pink
's "Baker Baker." More than any other song on the album, it perfectly marries Tori's signature sound with this new classical experimentation. It's a gorgeous, multi-layered composition that ebbs and flows in gentle waves of delicate melancholy and bombastic drama. Whether you like Tori Amos or classical music or none of the above, it's simply a great song – full stop.
The ominous depths of "Star Whisperer" are a variation on Schubert's "Sonata No. 20." Tori's voice elegantly intertwines with classical strings and woodwinds for the first half of the song before a quiet piano interlude churns into a breathtaking instrumental. Tori's piano then crashes and whirls in step with the orchestra until her voice reappears just in time for the song's finale. It's a beautiful piece of work and I bet it's even better live – I can happily imagine her playing the song with the West Virginia Symphony (hint, hint).
"Job's Coffin" (as in the constellation) doesn't really fit into the classical style of this song cycle, but it's none the less a stand out track and a fine showcase for Natashya's voice.
The middle of the album loses steam a bit. The individual melodies are pretty enough, but none of the arrangements capture the attention as the surrounding tracks do. Even a brief and bizarre sample of The Beatles' "Lucy in the Sky with Diamonds" is lost within the sedate piano melody of "Edge of the Moon."
Thankfully, the album's title track sets things right again. Tori duets with her niece, Kelsey Dobyns, who has an exquisite voice. The two singers' vocals are free of the audio tricks that plagued Natashya's recordings, so the duet works perfectly and both of their voices sound fantastic. The song plays like a Kate Bush-penned opera.
The sole instrumental track, "Seven Sisters," emphasizes the masterful arrangements of this album as well as the talent of its musicians. I hope the powers that be at Deutsche Grammophon can convince Tori to record a purely classical album next time around.
As I said when I posted the video last month, the album's finale "Carry" is a lovely piano ballad that reminds me of To Venus & Back's "1,000 Oceans." Like "Job's Coffin," it seems slightly out of place amidst the other tracks but is none the less stunning.
One of the more impressive releases of 2011 so far, Night of the Hunters was an ambitious undertaking for Tori Amos and one that, despite its weaknesses, can be called a success. It's also a definite step in the right direction for the songstress and has won my loyalty back after a decade of disillusionment.
I was not granted permission to share an mp3, but you should be able to hear samples at the links below closer to the release date…