The soundtrack to the documentary
Leonard Cohen I'm Your Man
features classic songs written by Leonard Cohen performed live during a concert called "Came So Far For Beauty: An Evening Of Leonard Cohen Songs". Among the performers are Rufus and Martha Wainwright, Nick Cave, Beth Orton, Antony (of the Johnsons), Jarvis Cocker, The Handsome Family, and Mr. Cohen himself with U2. There aren't many songwriters like Leonard Cohen, and this collection of covers is a grand encomium to his enormous talent.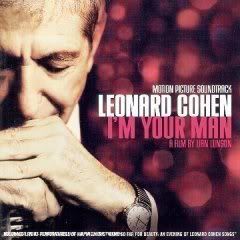 Martha Wainwright starts it up with a throaty, wailing rendition of "Tower of Song". Nick Cave churns out a swaggering cabaret of "I'm Your Man". Kate & Anna McGarrigle join Martha Wainwright to form an angelic choir on "Winter Lady".
While I prefer Serena Ryder's more melodic interpretation of "Sisters Of Mercy", Beth Orton gives an earnestly solemn performance of it here. Though "Famous Blue Raincoat" and "Chelsea Hotel No. 2" are my favourite Cohen songs, it's "Sisters of Mercy" that contains my best-loved Leonard lyric – "if your life is a leaf that the seasons tear off and condemn, they will bind you with love that is graceful and green as a stem".
I was pleasantly surprised by Rufus Wainwright's semisweet rendering of "Chelsea Hotel No. 2". If only he showed off that astounding vocal range more often. Speaking of astounding voices, I truly believe that Antony's quivering voice could fill any song with depth and heartache. His cover of "If It Be Your Will" is no exception.
The Handsome Family take on "Famous Blue Raincoat" isn't bad, but it pales in comparison to the original or even the cover by Tori Amos. Rufus Wainwright's nasal performance on "Everybody Knows" could neither compete with the Cohen version nor the Concrete Blonde cover, but the new arrangement is saucy enough to keep it interesting.
Perla Batalla and Julie Christensen give a soulful presentation of "Anthem" before the bottomless voice of the man himself Leonard Cohen is paired with the electronic pop-rock of U2 for the finale "Tower Of Song".