Anyone wondering why I chose Damien Rice's O
for last week's classic album need only to listen to it. The album that introduced the world to Lisa Hannigan is just as impressive, powerful and emotive now as it was when I first heard the original Irish release in 2001. While male/female harmonies have since become very common, at least in indie music, back then it was quite unusual. And whether singing together or alternating vocals, Damien Rice and Lisa Hannigan possess two of the most extraordinary voices ever recorded. Add to that Rice's unique (especially for the time), intricate weaving of classical instrumentation and operatic vocal flourishes into otherwise simple, but absolutely lovely acoustic melodies and the album (particularly the songs "The Blower's Daughter" and "Eskimo") can't be called anything but a classic.
This week's classic album is an old favorite…Carole King: Tapestry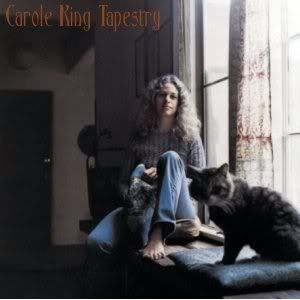 To recap the procedure here: At the beginning of each week, I'll post brief thoughts on the previous week's listening experience along with the coming week's classic album selection. Then sometime in the week that follows, we'll all take the time to listen to the album from beginning to end with no distractions. It can be as simple as just getting away from the computer to listen alone or you can make an event of it with candles, beverages and friends. Whatever format you play the album in or the manner in which you listen, just give the music your full and undivided attention.
Feel free to comment or email your opinions of our selections and recommendations for classic albums (from any decade, including this one).