Funnel Cloud
is the third studio album by Hem. Led by vocalist Sally Ellyson, the band describes their style as "Metropolitan Country" (also known as countrypolitan). The sound is a mix of Tin Pan Alley folk and Malibu dream pop – melodic with a slight twang. Sally's voice is strong and so pretty. A mix of
Eleni Mandell
, Zooey Daschenel, and Joni Mitchell. The songs on
Funnel Cloud
conjure up quaint hometown images of
Our Town
and
The Wizard Of Oz
.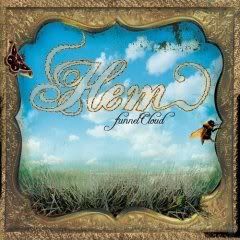 I first heard Hem back in 2002 when they opened for Beth Orton in the smokey Headliner's Music Hall in Louisville, KY. Their sound has greatly matured since then.
Songs like "We'll Meet Along The Way", "Hotel Fire", and the incredibly beautiful "Great Houses Of New York" have subtle (yet substantial) melodies that allow Sally's stunning voice to take the spotlight it well deserves. And "Funnel Cloud" sounds more like a soft lullaby than a song about a tornado destroying a town.
The pretty stand out track "Not California" spins into a harmonica laced mellow retro pop direction with a soaring chorus. The track apparently features guest vocals by former Smashing Pumpkins member James Iha, but his voice is blended into the background harmonies.
Other songs have a country flavor to them, such as the old love reunion tale "He Came To Meet Me" and "Too Late To Turn Back Now" – the latter with fiddle by Alison Cornell and guest vocals by Ollabelle's Amy Helm.
Iha and Helm return for "The Pills Stopped Working" (this Appalachian girl misread the title as "the hills stopped working"), which also has harmonica by Jon Diamond. The track starts out like a simple country tune, but the harmonies build in the second half as the arrangement broadens with pounding piano.
"The Burnt-Over District" is a cinematic instrumental. The lyrics of "Reservoir" express the beauty of home in the eye of the beholder over more popular landscapes. And "Almost Home" is a charmingly sweet and sentimental finale for this nearly perfect album.
Hem Official Site
Hem on MySpace