Pamela Means's latest release Precedent came to me accompanied by a Frida Kahlo postcard with a note from Pamela claiming the album is "back to acoustic basics". But these songs are anything but basic. As always, Pamela recorded each song live in studio without edits or overdubs.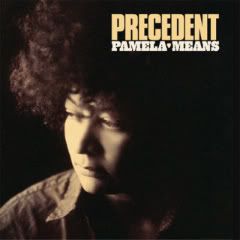 Pamela's deep acoustic strum rips open "New Orleans". The lyrics address the horrors surrounding Hurricane Katrina, and the injustices that the residents of the city continue to suffer. Her soft voice and subtle phrasing allow the fierceness of her guitar playing to convey the song's sad message.
"Amsterdam" eases the tension by sliding back into the jazzy sound of her previous release Jazz Project Vol. 1, which is very complimentary to the rich tone of her voice.
"Love and Dust" and "Fireflies" are pretty acoustic ballads, but tracks like "California" and "Cold Ass M.F." (of which there are two versions) simmer with the unique heat that only Pamela Means – and perhaps Ani Difranco – can sear into an acoustic guitar.
The moody cover of Peter Mulvey's "On The Way Up" is a nice surprise. "Patchwork" has the kind of hushed intimacy of a live performance at a local bookstore or coffeehouse. But it's "Virago Plains" that truly showcases the intricacy of Means' guitar work.
Pamela is one of a growing number of artists who rely on pre-order "donations" from fans to fund the creation of her albums, including Precedent. The album is currently only offered for purchase in digital form at DigStation, but I'll update this post if physical copies become available.
Pamela Means – New Orleans (mp3 expired) *
*mp3 posted w/ permission of artist